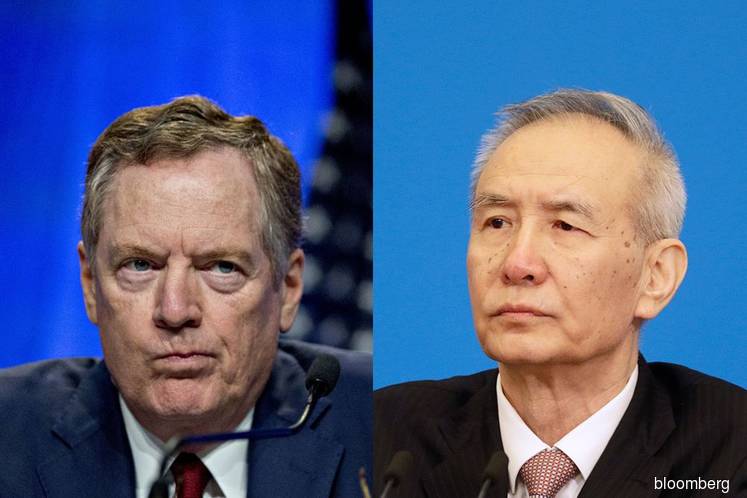 WASHINGTON (Jan 4): Falling markets and increased warning signs in the world's biggest economies are adding pressure on U.S. and Chinese negotiators to make progress on a trade deal during two days of talks in Beijing next week.
Deputy U.S. Trade Representative Jeffrey Gerrish will lead a delegation to meet Chinese counterparts starting Monday, China's commerce ministry said in a statement. It will be the first time the two sides have met formally since Donald Trump and Xi Jinping agreed to a 90-day truce in Argentina last month.
News of the meeting helped boost Chinese stocks on Friday, as investors bet on easing tensions following a slew of bad news. After the market closed, China's central bank acted to release money into the economy to support growth, cutting the amount of cash reserves lenders must hold by 1 percentage point.
With the trade war now starting to hit global stock prices and the pace of world economic expansion, both Trump and Xi have an incentive to strike a deal.
The S&P 500 Index dropped 2.5% on Thursday, while Apple Inc. shares plunged the most since 2013 after reporting it would miss a quarterly sales forecast because of slowing iPhone sales, especially in China. Chinese data this week also showed a worsening picture, with a manufacturing gauge signaling contraction for the first time since mid-2017. The Shanghai Composite Index hit a four-year low earlier this week.
"Market confidence and growth in 2019 is hanging by a thread and the trade negotiators are shouldering big hopes for a truce," said Wang Huiyao, an adviser to China's State Council and also founder for the Center for China and Globalization, a Beijing-based think tank. "Companies, the stock market and the real economy from the two countries are desperate for any signs of confidence."
The talks next week will involve mid-level officials and be more technical in nature, dealing with non-tariff measures, intellectual property, agriculture and industrial purchases, two people familiar with the matter said. USTR Robert Lighthizer is expected to meet with Chinese Vice Premier Liu He, President Xi's top economic adviser, later this month, one of the people said.
"Given the market sensitivities, both sides will likely want to convey a sense of progress coming out of this round," said Michael Hirson, Asia director at Eurasia Group and a former U.S. Treasury Department official. "An important indicator of real progress will be whether they announce a substantive round of negotiations soon at a more senior level."
The Trump administration has sought to portray recent market declines as a positive. White House economic adviser Kevin Hassett told reporters that lower sales for U.S. companies in China indicates economic pain that will give Trump leverage, saying it "puts a lot of pressure on China to make a deal."
But other U.S. administration officials quietly concede that falling stock prices may have weakened their hand, even as they grow frustrated that Trump's trade policy is being blamed for the slump. One person familiar with the White House internal discussions said the market moves were being used by advocates of a deal with China to press their case with the president.
Where Trump will eventually come down remains unclear, the person added. But hawks in the administration continue to make the case that the long-term threat posed by China to the U.S. economy makes the fight worth having and that any meaningful deal could take years to negotiate.
After meeting Xi on Dec 1, Trump agreed to put on hold a scheduled increase in tariffs on US$200 billion in annual imports from China for 90 days, while the negotiations take place. In response, China temporarily lowered tariffs on U.S. car imports for the same period.
Trump reported "big progress" in trade negotiations after a phone call with Xi last week. Beijing also announced a third round of tariff cuts, lowering import taxes on more than 700 goods from Jan 1 as part of its efforts to open up the economy and lower costs for domestic consumers.
Still, the gap between the two sides remains large. While China has expressed an openness to a deal that involves increased purchases of American goods, Xi's government has resisted U.S. demands for it to take real action on technology transfer and curtail state support for strategic industries like robotics, electric cars, computer chips and artificial intelligence.
For a truce to last China will have to implement extensive structural reforms, Citigroup Inc's London-based strategist Mark Schofield said in a note last month. Even if initially successful, uncertainty will remain and additional U.S. trade and investment restrictions are likely, he said.
"Rather than reflecting purely economic issues, Sino-U.S. trade tensions reflect strategic conflicts," he said. "This renders such hostilities difficult to resolve and sets this conflict apart from other recent U.S. trade disagreements."
People familiar with the talks next week said the U.S. delegation in Beijing would include officials such as Gregg Doud, USTR's chief agricultural negotiator; David Malpass, the Treasury Department's under secretary for international affairs; and Merry Lin, director for global and Asia economics at the National Security Council.
A realistic deal would include big Chinese purchases of U.S. agricultural and energy products, greater market access in areas like autos and financial services, and Chinese action on intellectual property, according to David Dollar, a former U.S. Treasury attache in Beijing and now a senior fellow at the Brookings Institution in Washington.
"Recent developments like the U.S. stock market correction and Apple's declining sales hammer home the message that a trade war will be damaging to the U.S. economy," he said. "And that it is in the administration's interest to reach a practical compromise."
read original article at http://www.theedgemarkets.com/article/market-swoon-raises-stakes-uschina-trade-talks-next-week